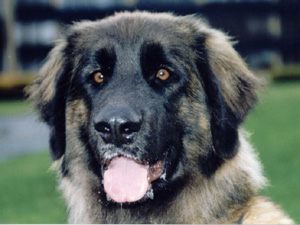 Name: Knockando's Est-Est-Est by Heart (Felicia)
Birth: 14/02/98
P: Le'Laras Gillian
M: SUCH Knockando's Year of Bologna Sex: Female
Country: Sweden
Owner: Anu Löhmus
E-mail: anu.lohmus@hem.utfors.se
Breeder: Ruth Lintonsson, Kennels Knockando's, Härryda, Sweden
E-mail: ankujanku@hotmail.com

Notes: Felicia is the most wonderful Leonberger. She is very kind with all people and animals, enormously charming young and playful leonberger-girl. She is not good as watchdog, wich I prefer, since I live in a flat. Felicia is strong-willed and prefers to make her own decisions as far as possible, still, she is easy to handle whereever I go. She loves water, of course (it is never to cool for a nice swim!), forests and rain, but can easily sleep in 5 hours on a train if needed.